David Wood is the Master of all trainers!!
We were spellbound by David Wood and energy, inspiration and mastery when he presented his Break Through Training Program to us last weekend. Everything is possible for anyone despite circumstance. All we have to do is step out and go get what we want without allowing fear to pull us back. We must take 100% responsibility for what we have and what we don't have, without laying blame or excuse. We are the only ones who can make the shift in mindset and create success for ourselves!
During the three day program we gained tremendous insights about ourselves and how we are with people and how we approach life. David emphasises the importance of connecting with people. His tip is very simple, say "hello" and do it as often as you can, with energy!
This testimonial by Allan Kerr was spot on…
"The content is heavy hitting and invaluable, the delivery by David is strong, sometimes confronting and punchy, but mostly fun. Many of us know what we should be doing, but David has a remarkable gift of being able to make every attendee realize their shortcomings and realize what they need to do if they truly want to achieve their goals and dream with this business model, in fact with life in general. So,…. face the fear, and do it anyway! Just have a go …have a who cares, so what attitude, have fun, and get out there and talk to people, make new friends, and you will be rewarded with whatever it is you seek!!"
One of the things that stood out for us was that "No doesn't always mean no forever."  David Wood reminded us in a fun game how to act when you do get a "no" – do the Happy Dance!  And do it like you mean it.
Don't let yourself go down that path of "I didn't present well enough, or I didn't know my stuff well enough, or I'm not qualified enough…. Whenever you hear a no… instead, think of it that you're only one step closer to your next "yes" and then celebrate the no.
Many of the distinctions and lessons that David taught us were very much in line with what we've been learning with our Money Mastery course with mentor Paul Counsel. One of those is in respect to the importance of a reference group.
"I become the sum of the five people I spend the most time with."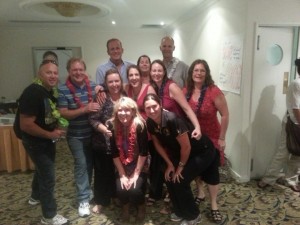 If we want amazing results in our lives we must aspire to associate and become connected with other people who are getting those results. One way to do that is to attend events and form mentor groups with people with similar aspirations. This allows new friendships with energetic, motivated and successful people.
We also recognise that this is just as important for our kids. That is why we encourage them to mix with positive peer groups and get them involved with sporting teams and enterprise.  As David put it…
"Environment is stronger than will power!"
So rather than deal with your will power, just change your environment and reference group.
We learnt also that "success is not convenient". It requires getting out of routine and comfort. During the training program David pushed all our boundaries to get us to practice being uncomfortable. He did this by having us talk to strangers on the street, miss our coffee breaks, hug each other, hold hands with people we didn't know, stay on late way past the planned program times, speak publicly, become vulnerable, and dance and dance and dance! We love his favourite saying…
"Get so uncomfortable about being uncomfortable that you get comfortable!"
This is something we definitely need to encourage in schools!
Here is a great little exercise that David says works… don't blame, justify, complain for ninety days and your life will completely change.
David truly believes that no dreamer is ever too small, no dream is ever too big!  He says that if you don't know where you're going, every road will get you there. All we have to do is make a start and follow a road. He also points out that…
"We will miss 100% of the shots we never take!"
So just believe in yourself and have-a-go.
David points out that everyone was once a disaster, including him! David's life certainly didn't start out on the right track. His Dad left the family when he was seven and he grew up angry with his mother. He dropped out of school and was in all kinds of trouble as a teenager living on the streets. David spent ten years travelling around the world, broke and living day to day. He worked as a chimney sweeper, window cleaner and barman. He discovered for himself that "who you were can completely change!" This realization led to a different thinking which brought him massive wealth, success and happiness way beyond all his expectations. His success is a direct result of a change in thinking and attitude.
Paul Counsel also supports the view that we are a product of our thinking. What we think and believe will become our reality.
David points out that your results are telling you what's going on in your life. If you are unhappy and poor, then you need to consider that what you've been doing up until now doesn't work. And if you don't find a new way and make changes, then your results will only continue to be the same. His advice is to stop taking advice from broke, unhappy people, and seek out successful mentors and friends who can move you along in the right direction.

Lastly a couple of testimonials from friends who attended the break Through Training with us…
An amazing weekend with David in Perth along with an awesome group of people…all willing to feel the fear and do it anyway! Life is not a dress rehearsal…just do it! Stop justifying, blaming and complaining… Grab happiness with both hands…Thankyou so much!
If you ever have the opportunity to spend time with David – take it! Tracey
Thanks David for an awesome weekend! If someone had told me I could sit through 3 massive days of training and never once feel like I was falling asleep I would have said impossible. The way you share the information and teach is inspirational. So many laughs and take away lessons – none more so than how to connect and change the warmth in a room. Inspired to say "HELLO" more often.  Melissa
David, this weekend in Perth has left a permanent imprint in my heart and mind. I will take 100% responsibility for what I have and what I don't have! Your seminar was so well presented and motivational that I have already started applying the strategies to every aspect of my life and have been dancing my "no boogie" quite regularly!! Denise
One of our favourite podcasts I've listened to recently from David Wood's "The Kickass Life" series was his interview with Andrea Owen, Hellraiser (as she calls herself).  She talks about becoming your own biggest fan and becoming a legend in your own mind.  We love that.  Get rid of disempowering thoughts.  And if the thoughts won't go away, learn to manage them. Take the power away from the gremlins inside your head!  Take advantage of the tremendous inspiration David provides for free on "The Kickass Life" series. CLICK HERE to listen in.
David Wood gave excellent teachings about daily life, relationships and business, (especially about the network marketing or referral business). In this day and age, that is how most businesses operate (whether they think they are or not. Referrals are the number one way that businesses keep loyal customers). There are exciting times ahead for Generation Y as they are fantastic at networking and do so in every day life with all forms of multimedia!
In our next blog article we will talk about the tremendous opportunities for everyday people using this awesome wealth creation vehicle to create residual income and financial freedom. So if you're curious about this opportunity for yourself or for your entrepreneurial kids, then don't miss this article!
We will also revisit Chayse and Kit and see how they achieved their financial goal and managed to give some of their money to a worthwhile Charity, the Royal Flying Doctors Service.