We thought it was time that we revisited our little Candy Man Chayse! When we last followed his enterprising adventure he had bought his lollies and bagged them up ready to sell.
If you missed that article, then click here.
Now he has to find a market for his product and learn to be a salesman. Before we share Chayse's exciting adventure we thought that it would be interesting to consider the benefits of children earning pocket money through enterprise as opposed to children receiving a weekly allowance.
Children earning pocket money through enterprise will develop the mindset and skills of an entrepreneur! Giving children a weekly allowance conditions them to be "workers". Robert Kiyosaki describes a worker as someone prepared to give their time for money, whilst an entrepreneur builds systems and businesses that produce a cash flow. Workers are more often than not time poor and cash poor, whilst entrepreneurs are generally time rich and cash rich.
Why is it then that the vast majority of us leave school and become workers?
A child receiving a weekly pocket money allowance is equivalent to a worker receiving a weekly salary. Relying upon a weekly allowance won't encourage children to look for opportunities for enterprise. Their pocket money may or may not be aligned with doing household chores, just as a worker receives payment for doing work. Many kids leave school and slot into jobs for the rest of their lives because they have not been able to explore the entrepreneur within themselves!
Children earning pocket money through enterprise develop a whole different mindset. Parents of these children will encourage their children to look around to find opportunities. These kids learn to identify problems that they can solve and they'll learn the art of negotiation. Enterprising children understand assets, liabilities, cash flow and profit. They will understand markets and customer service and they will develop the confidence to promote themselves.
Children earning pocket money though enterprise are more likely to value their profits and spend their money wisely. Weekly allowances are easily received and easily spent (knowing that more money will follow). This conditions kids to be reliant on a salary.
Enterprising children become self motivated to make money, and as they celebrate their successes, they quickly come to understand that they can in fact make a lot more money than their friends receiving weekly allowances.
According to entrepreneur, Cameron Herold (ted.com), parents wanting to raise entrepreneurial children won't give pocket money to their kids. They will encourage their kids to go around their home or community and identify opportunities. These kids then make a plan and negotiate with either their parents or people in the community to provide the service or product for payment.
Kids may not be motivated to do this at first, especially if they have been used to receiving a weekly allowance. The trick here is to make sure they have a big "Why!" They need to want something badly enough. This then becomes their goal and reason.
So back let's get back to Chayse's enterprising story! Was he able to earn his pocket money through his Lolly Bag business?
He had his first opportunity to sell his lolly bags at his big brothers' soccer games. During the game the spectators (his potential customers) mill around on the sidelines. So we primed him on what to say to customers. We also enlisted the help of his brothers, Amber and friends. It was all great fun and soon enough the customers came rolling in!
Now who could knock back buying lollies from a cute smiling four year old!
His lolly bags sold like hot cakes for two dollars each. Chayse couldn't hold up the box because it was too heavy, so he managed the money jar, whilst his helpers held the box. He had to take his customers money and give change.
As word spread that there were lollies for sale, kids came racing in from all directions to buy Chayse's product. The box became lighter and the money jar heavier…  but despite the weight, he wasn't going to relinquish it!
Chayse looked after his helpers by giving them each a lolly bag. Hopefully they will be willing helpers the next time he sells something.
Chayse also paid back the money his Dad lent him as capital to buy the lollies and plastic bags from the supermarket.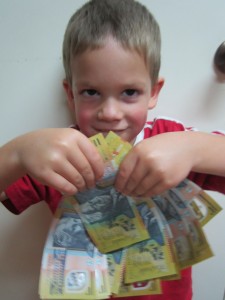 All up he was delighted with his fifty dollars net profit! He is now well on his way to reaching his goal to buy toy Nerf Guns. In fact his business was so successful, that Kit has recently decided to partner with him for his next endeavour! And under their mother's guidance, they will research and decide on a charity that could benefit from some of their profits. So, stay tuned for that one!
Chayse is one of those children earning pocket money through enterprise. It would have taken him five weeks, with a weekly allowance of $5 a week to save the equivalent to what he profited at the soccer grounds during a soccer game.
In our next Enterprise For Kids blog we'll introduce you to a self made millionaire who has some excellent tips for parents wanting to raise entrepreneurial kids. Don't miss this article!